There are many words one could use to describe Jason Smith, but "slacker" isn't one of them. And while he might exercise with a Kennedy during his Washington D.C. morning workouts, privilege certainly hasn't factored into his political success.
"My dad had an auto repair shop here in Salem, and my mother worked at Briggs & Stratton," says Smith, Missouri's 8th congressional district representative in the United States House of Representatives since being elected in a June 4, 2013 special election in Washington D.C. "I mean, that's not exactly the road map to go to Congress."
Smith, a 34-year-old Salem native and a "conservative and a Republican," was re-elected Tuesday. With all precincts reporting, Smith had 67 percent of the vote.
Smith has come a long way from his humble beginnings. Initially, his goal was to graduate around age 20 with two degrees, then head off to law school in Oklahoma City before returning to Salem. He accomplished all of those goals, but his mother recently reminded him of another he forgot. She found an old keepsake of his while cleaning out a closet.
"When I was in FFA, here in Salem, you have to keep a record book of all the goals that you set starting out as a freshman," said Smith. "One of the goals that I had set was to become the youngest state representative in Missouri's history. … So I guess when I was younger in high school, as a freshman, I always said I wanted to be a state rep. But I didn't think that I'd be in Congress eight years later."
Jason missed his goal of being the youngest state representative in Missouri's history by a mere three months, but he made up for it once he got there. Elected to the Missouri State House during a special election in November of 2005 to replace Frank Barnitz, who moved on to the State Senate, Smith rose to be both the youngest majority whip (fourth in charge) and the youngest speaker pro tem (second in charge) in Missouri's history.
"That was quite an interesting dynamic," said Smith. "When people ask me what is the biggest difference between serving in Jefferson City or Washington, D.C., it's really the lack of huge, substantial relationships. In the State House, you knew everyone."
But Smith is working hard on getting to know everyone at the federal level, too. Smith's goal, by the end of this term, was to sit down and have coffee with all of the other 434 representatives in the House. Coming in as a class of one during a special election, he said he could either go the way of his predecessors, the Emersons, and try to stay in Congress for the next 20 or 30 years to get to know everyone, or he could go office to office and meet each individually. He's made quite a bit of progress. "My goal was to make it through all 434 others before the end of this term," said Smith. "And I'm over 225 now. Almost every one of them, in the first few minutes, they always ask the same thing, 'What do you want from me, and why are you here?' And when you literally tell them, 'I'm just here to get to know you and see where we can work together,' they're shocked by that."
According to Smith, he's doing the groundwork to find issues that he can reach across the aisle on. And his morning fitness team is just one such connection.
Last December, Smith approached Markwayne Mullin – a Congressman from Southeastern Oklahoma, an old family friend, and a former UFC cage fighter – with a request. "Right before Christmas, I went up to him and I was like, 'Markwayne, I have a New Year's Resolution to get fit,'" said Smith. "I think he made me his special project."
Within about three weeks of daily 6 a.m. intense CrossFit workouts, Smith started noticeably losing weight. To the point where House Majority Leader, Kevin McCarthy, asked Jason what his secret was. After that, McCarthy became part of the early morning workout crew. From there, Aaron Schock, the only Republican in the house younger than Smith (as well as an occasional Men's Health cover model) joined the group. Eventually the workout clan would become bipartisan, adding two Democrats to the mix, Congresswoman Tulsi Gabbard of Hawaii and Congressman Joseph Kennedy, of the famous Kennedy family, from Massachusetts, along with Republicans Todd Rokita and Pat Meehan.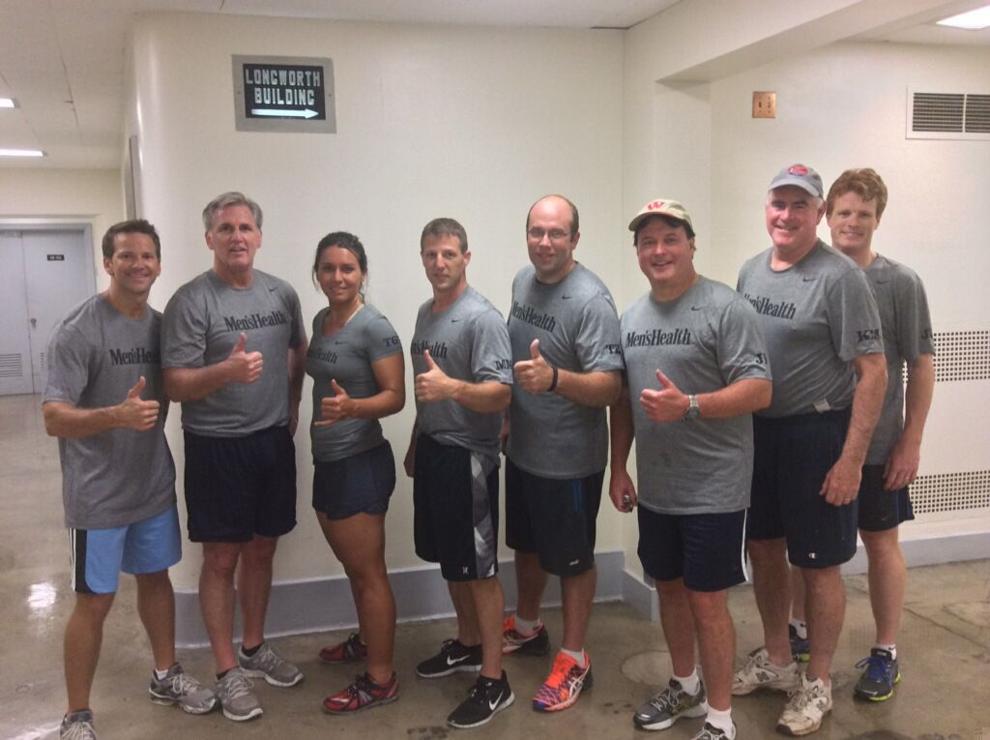 The New York Times and The Washington Post eventually covered the group, seemingly thrown off by the morning comradery in a government that is so often gridlocked it occasionally shuts itself down. Smith sees hope in the youth of Congress. "The younger crowd up there, the younger members of Congress," says Smith, "are more willing to work together, to try to find solutions to problems."
This is a character trait Jason's teachers at Salem High noticed early on. Bob Parsons, who served as Salem's FFA advisor for 40 years, remembers Smith's time as a senior when he was the FFA chapter president. "He did an excellent job of utilizing the strengths of his officer team, and was always an encourager – never negative," said Parsons. "Things wouldn't work out exactly right, but he was always encouraging the entire officer team to work hard and strive to do their very, very best."
Before he got to Congress, Jason was a representative of a different sort. During his Salem High School days, he was picked by the Salem Area Community Betterment Association to attend a Missouri state conference. Jerry Craig, the president of SACBA at the time, noticed Smith's leadership ability early on, but he was particularly impressed when Smith, later in college at Mizzou (Smith graduated from Salem High in 1998), would still come to the Missouri Community conferences held in Columbia when he wasn't having class. Most of all though, he was struck by Smith's organizational abilities.
After being elected as U.S. representative, Smith was well known in this area, but not so much around the bootheel of the state – a part of the district Smith is also responsible for. He put together a team to remedy just that. "He always had a great organization and had it well organized," said Craig. "I think that was a real secret to his success – his organizational skills. And he was one of those guys who was just as comfortable in a suit as in a pair of overalls – a versatile young man with a very outgoing personality and a lot of energy."
Smith graduated from the University of Missouri in 2001 with Bachelor of Science degrees in both Agricultural Economics and Business Administration; he then went on to earn his J.D. from Oklahoma City University School of Law in 2004.
Clifton Parker, who has been one of Smith's best friends for almost 20 years, has been a witness to Smith's energy along the way. The two grew up on Water Street in Salem, a few houses down from each other, and were inseparable for much of their youth. Parker flew with Smith to Washington D.C. when Smith was sworn into the U.S. House in 2013. He describes the experience as one of those, aside from the memories made with his own kids, as "probably one of the proudest moments" he's ever had. "I don't remember when I first saw him get involved with politics, but you could tell before he was old enough to drive that he was going to do some great things," said Parker. "Looking back now, you can already tell, I mean, just what he's accomplished... He's not even 35 years old. … He really is devoted to the job; he doesn't take much time off for himself. And he's always been that way."
Parker remembers Smith in college not only finishing two degrees in three years, but also working a full-time job at the same time. Like something out of a Horatio Alger tale, Smith said he worked at Walmart while simultaneously taking 27 credit hours a semester. "Just so I could pay my living expenses," said Smith. Asking how much he could've possibly slept with that kind of schedule, he replied with a chuckle, "Not much."
Smith is one of the few congressmen still paying off his student loans – a figure which, according to the Consumer Financial Protection Bureau, has reached $1.2 trillion, eclipsing that of the country's credit card debt and producing billions of dollars in revenue for the federal government. Smith feels strongly about this, as he too, maxed out with student loans, had to start out with what many commentators are now calling the "second mortgage" that young Americans are riddled with fresh out of school and just entering the workforce.
He recalled a recent conversation on student loans with some of his elder statesmen and stateswomen. "I was the one member that could say, 'I'm still paying student loans back,'" said Smith. "I understand what it's like to have student loans."
It was when these loans were still fresh in his mind that Smith fell into long-time Missouri Representative Jo Ann Emerson's good graces. Emerson, who represented Missouri's 8th District in Congress for 17 years, became close friends with Smith during his time as her Dent County coordinator. When she was offered a job as the CEO of the National Rural Electric Cooperative Association and decided to step down from her senior position in Congress, she began to urge Smith to run for U.S. representative as her successor during a special election. Emerson commented that even though it was a special election, there were still several candidates in the race, and that "Jason worked his heart out" to win it.
Smith had just finished law school when Emerson and Smith first met. "You know, Jason really impressed me the first time I met him," said Emerson. "He just showed incredible leadership skills to me when he was very, very young and a real servant's heart. I said, 'You know? This guy would be really super.' "
When Jason won a seat in the Missouri State House in 2005, he and Emerson worked "very closely together," with Smith at the state level and Emerson at the federal, as the two were Dent County's key representatives at the time. "Jason and I, I think both of us share common ways of serving and just really still believe in doing the very best we can in listening and learning from constituents," says Emerson. "He's doing a terrific job. All my friends tell me they're just really pleased with his representation."
While Smith seems to be living out his waking dreams, his nights in D.C. are a little less comfortable, but he makes them that way intentionally – he sleeps on an air mattress every night. It's a routine Jo Ann's late husband, Representative Bill Emerson, also practiced when he was first elected.
But why, you ask? Well, upon arriving in Washington, former vice presidential Candidate Paul Ryan, one of the first representatives Smith met, told him, "If you make your stay in D.C. uncomfortable by living in your office, you will always go home every weekend, and you will not become Washington."
Smith has been keeping that up since he's been in office, for almost a year and a half. Smith adds, "My back is feeling it, but…"
It must keep Dent County comfortable. And Smith hopes it'll stay that way. It's looking like it, as Smith is favored to win re-election today.