Free Holiness Church opened its doors for worship in the summer of 1953. A dream of three men and the work of many culminated in a church that was active for decades.
L.B. Nelson, Glen Gibbs and Arnold Wisdom purchased the property from R.S. and Etta Bedwell on present-day Scenic Rivers Boulevard, Dec. 29, 1952. About six months later, the church was opened. The church had additions over the years, including Sunday school rooms, among others.
"This is amazing considering the property was purchased in winter and all of these men had jobs, farms and families to attend to," said Debbie Gray, granddaughter of original trustee Arnold Wisdom.
Both Gibbs and Wisdom preached in services about once per month at Free Holiness Church, and at other churches in the region. Since the beginning, the desire of the founding fathers of the church was to use the property for worship, and for no one to profit from the building. There have been several trustees in the past 67 years.
"My grandpa (Rev. Arnold Wisdom) was a pastor for over 50 years and never took one cent for it. He said it was a privilege to bring God's word," said Gray.
Trustee Larry Gibbs, grandson of Glen Gibbs, and Gray put their heads together about what to do with the property when services ceased a few years ago.
"We explored options of using it for a church, or ministry opportunity, and nothing materialized from the search," shared Gibbs and Gray.
After the church was on the market for about 18 months, the decision was made to let it sit over winter and re-list the property in spring for prospective buyers.
"Stephanie Strader contacted my wife via Facebook message about the property," shared Gibbs.
Within a few weeks, Strader had purchased the property from Gibbs and Gray, as trustees.
Since the original trustees intended the property as a way to better the community, the present trustees will also not take a cent from the sale.
Several ideas have been discussed about the funds acquired from the sale.
"We just want to help as many as we can with what we have," Gibbs and Gray shared.
As an honor to their grandfathers and to assist the community in worthwhile causes, they are weighing several options for dispersal of the funds.
New life as The Rusty Pig
Stephanie Strader has always wanted to own a boutique. She has been a vendor at vintage markets for about seven years, but wanted a place of her own to feature her finds.
"The timing was right, and the location. I happened to know the people who had the building and they were looking to sell, so it felt like it was meant to be," shared Strader.
It all went fast, happening from initial contact with Carol Gibbs after Thanksgiving to the sale of the property just in time for Christmas.
The Rusty Pig hopes to be open for business the first weekend in April. Plans are to be open the first weekend of each month, on Saturday.
"I want to make it a new store every month as items sell," said Strader.
The Rusty Pig will feature chippy, primitive furniture, and a mix of vintage and new wall and tabletop décor and more. Some items are refinished, some are ready for repurposing, in farmhouse and industrial styles.
The old sanctuary is the store, with Sunday school rooms being used as storage for now.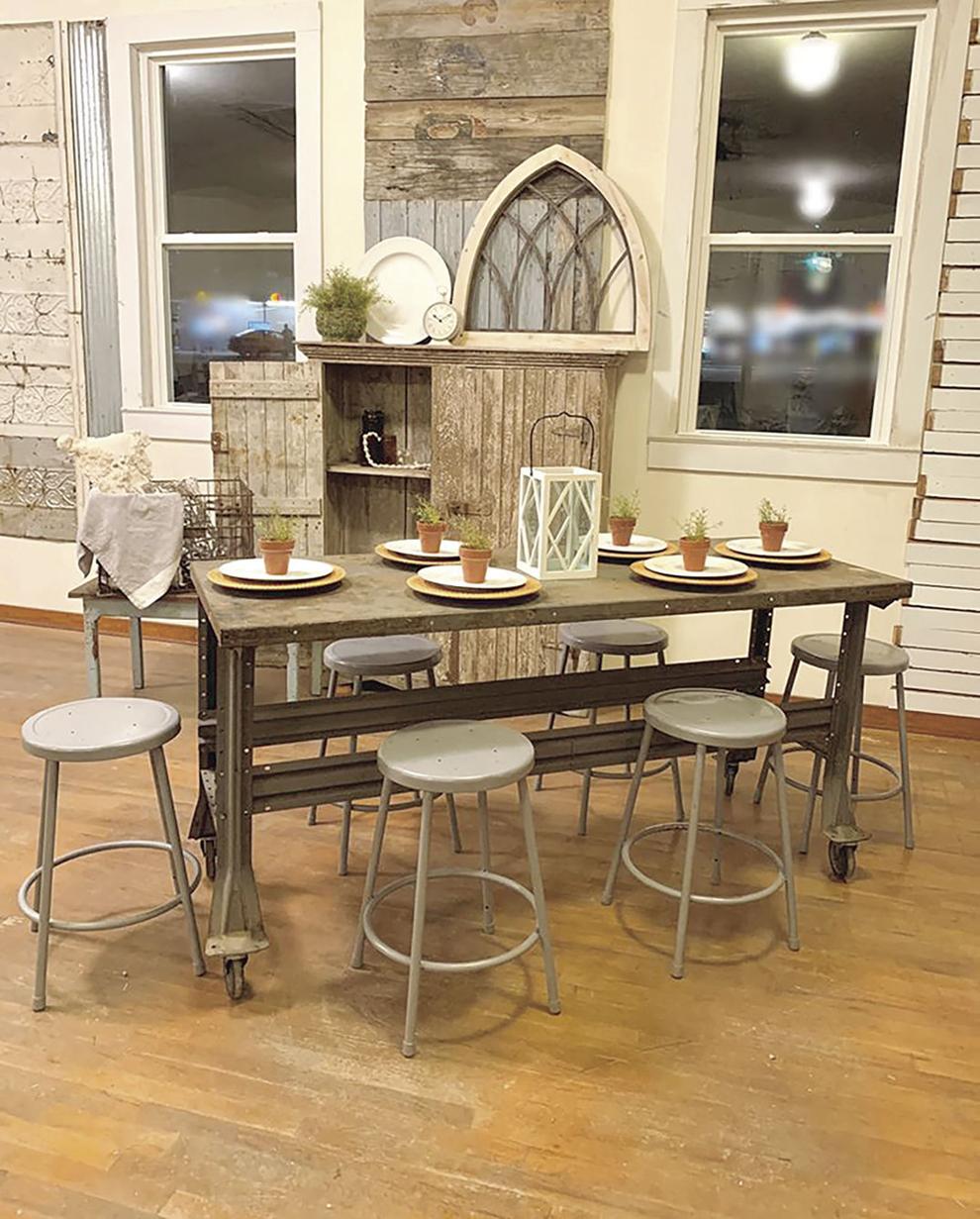 Plans for the future include holding classes or paint parties in the basement of the building.
"I would love to have succulent classes, wreath classes around Christmas, paint and sip parties, and other home décor events," said Strader.
Many updates have been made to the property, while still maintaining some of its 67-year-old charm. Carpet has been removed to expose hardwood floors, the original schoolhouse-type lighting remains, new fans, additional lighting, paint, a renovated porch, and new roof and windows have been installed.
Family and friends have assisted with some of the remodel.
Strader is excited about making one of her long-time dreams come true.
She referred to advice from her dad, "this merry-go-round only goes around once, do what makes you happy."
The Rusty Pig can be found at 404 E. Scenic Rivers Blvd. in Salem, on Facebook and Instagram