A grand opening and ribbon cutting were held to commemorate the opening of the new gymnasium at Salem Community Center @ the Armory Thursday.
The result of years of hard work, grant proposals and fundraising has culminated with a gymnasium that will serve as both a dedicated facility for city youth league sports and additional opportunities for a healthy lifestyle in Dent County.
U.S. Congressman Jason Smith was the guest speaker of the well-attended event. Smith, a Salem native, shared his enthusiasm for the new addition.
"It is a proven fact that communities that have centers are healthier with longer life spans. Just 150 minutes of physical activity per week can change your life," said Smith.
"I am so blessed to call this home, and to be here. And for all of you, you are the ones who made this happen."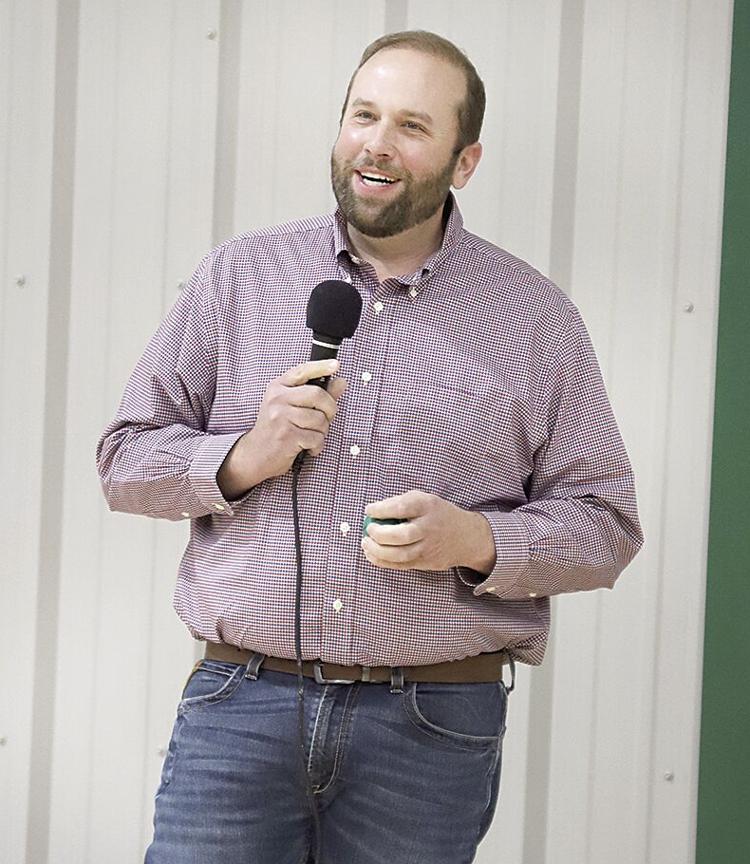 Healthy Dent County Executive Director Sherry Lea introduced Smith and shared some of the history of the gymnasium with those in attendance. Cahill Construction completed the addition and renovations at the center. City of Salem Parks and Recreation Director Melissa Dubois spoke about her excitement for youth basketball programming having a dedicated home.
"We are excited to use the gym for our upcoming basketball and cheerleading season, and are grateful to have a facility where our athletes are a priority," she said. "It's a beautiful gym with dual courts to accommodate multiple practices and games. Parks and Rec is excited to grow our programs, working closely with Healthy Dent County to see that growth."
HDC chairwoman Liz Gruendel thanked Lea for her tireless work and dedication to the center and community.
In 2017 a committee was formed, as leaders in Healthy Dent County recognized a need for a new gymnasium to take the burden from other facilities. In years past, city programs have mainly used the high school gymnasium. With basketball season coinciding with city basketball leagues, it was oftentimes difficult to find gym space for practice for all involved. The committee consisted of representatives from the community, schools and several churches.
The Department of Economic Development's Neighborhood Assistance Program accepted Healthy Dent County's proposal of $350,000 in NAP tax credits in 2018. A capital campaign to raise the additional $500,000 needed to begin the gymnasium and expansion of the center began the same year. Of 21 NAP donors, 11 were local. A private foundation donation of $250,000 helped reach the goal. On June 13, 2019, a groundbreaking ceremony for the gymnasium was held.
"We had completed a lot of the groundwork already. We had architectural plans to present with the grant, so they saw we were serious about the project," said Lea.
The grant, NAP tax credit capital campaign donations and $50,000 (split over two years) from City of Salem Parks and Recreation funds covered the gymnasium cost. The original plans were for the gym to have a concrete floor, similar to the multi-purpose room at the center. Healthy Dent County's Board of Directors voted to use $85,000 of its operating budget to cover the cost of the maple wood flooring to ensure patrons would have a true court for sporting activities.
An additional grant through Missouri Foundation for Health covers the cost of a gym director for two years. Kelsey Schatz will serve in that position, with costs covered by the grant. Schatz will maintain the schedule and reservations of the court, as well as monitor activity in the gym.
City youth league basketball will use the gym as its dedicated home in the winter. Fitness center members can use the gym as they do any other portion of the center.
Basketball is not the only option available in the new facility. Other activities such as pickleball, volleyball and walking are just a few of the options. Configurations of the gym allow for a regulation-size basketball court with two goals, full-size volleyball court, as well as a split volleyball court with two fields of play, or split basketball court.
Climate-controlled temperatures in the gym make it ideal for any season. The court is available for reservations of half court or full. Rates are $15 or $25, respectively, per hour.
Youth (18 and under) punch cards are available for staff hours, 8 a.m. until 4:30 p.m. Monday through Friday, $28 for seven uses.
Other schedules include drop-in basketball, 9-11 a.m., Monday and Friday, $3 for non-members; drop-in pickleball, 8-10 a.m. Tuesday and Thursday, $3 for non-members; drop-in volleyball, 9-11 a.m. Wednesday, $3 for non-members; and 3-5 p.m. each Wednesday is open gym, which is free to anyone. A daily fee is available for those 18 and over, $8 per day.
Schatz hopes to have more programming for adults, in addition to youth, in conjunction with Salem Parks and Recreation.
Sponsorships are available to help offset the cost of the floor. Wall pads, player chairs, and goals are all available to sponsor.
Additional renovations taking place over the past year are an expanded weight room, new fitness center entrance, additional restroom facilities and fresh paint.
Fitness On Demand was added to the list of services offered. In the group workout room, an iPad is available to pick an activity or exercise to complete. The On Demand software will play the exercise on the television in the room, or via your mobile device.
The main goal of Healthy Dent County has always been to provide opportunities to improve the health and quality of life for the community. The gym and other renovations preserve that initiative for more people of Dent County to begin or maintain a healthy lifestyle.
In 2010, Missouri University Extension announced plans to end its participation in TCRC partnerships across the state. Committees in Dent County began exploring available options for the Salem TCRC to continue serving the community. The innovation of community members and willingness of partners to invest, allowed Salem's TCRC to stay open after loss of the Extension partnership.
The Salem TCRC Executive Committee approved renaming the organization as Council for a Healthy Dent County when the non-profit 501c3 organization was established. The facility was renamed The Salem Community Center @ the Armory. Lea began serving as Executive Director in 2011.
The center is located at 1200 W. Rolla Road. For additional information on the gymnasium or other questions call (573) 729-8163. Follow Council for a Healthy Dent County and the Healthy Dent County Fitness Center on Facebook.