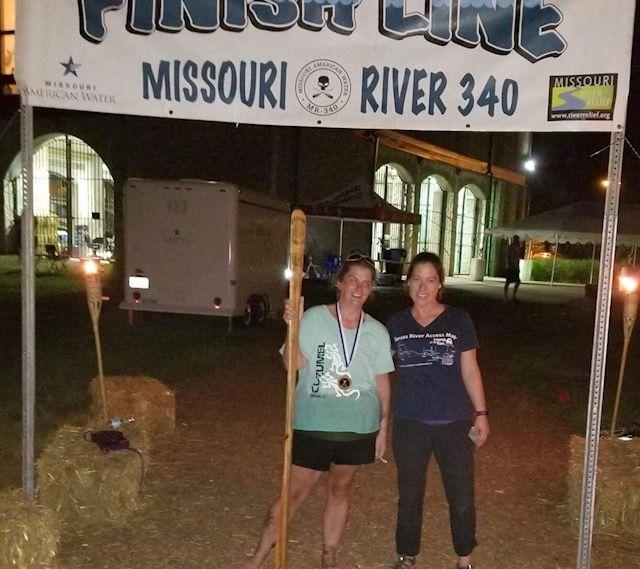 ---
Jess Baldwin of Salem calls it her "mid-life crisis." For many of us, sitting in a kayak and trying to traverse the 340 miles from Kansas City to St. Charles in 88 hours or less would definitely be a crisis.
But that's what Jess and over 550 other adventurers will attempt to do July 24-27 during the Missouri American Water MR340, a race across Missouri that, if completed, would make them the envy of Jacques Marquette and Louis Joliet and evoke jealousy from Merriweather Lewis and William Clark.
To quote the MR340 website, "this ain't no mama's boy float trip. . . Just entering it will impress your friends. Finishing it will astound them."
There are a lot of ways to take part in the MR340. Baldwin, 39, is going in a kayak. She started three years ago with a kayak from Walmart and moved up to a Wilderness Systems Focus 150. She has been training on the Current River and doing regular laps at Shawnee Mac Lakes outside Salem. She has never been in a race like this before or took part in high school athletics but saw something in the MR340 that made her want to leave her husband Charles and two toddlers, ages 3 and 4, behind for what will likely be a grueling, 75- to 88-hour challenge on the Big Muddy.
"I heard about the race, and as soon as I watched some videos I was ready," says Baldwin. "I've never done this before, and everyone is saying I am crazy."
After a couple phone calls and a look at the roster for the MR340, I found the names of a few more brave and crazy souls from around here who are also going to take a seat on the Missouri River for the better part of three or four days.
Amy Crews, 39, based in Rolla with the U.S. Forest Service, along with Dirk Frisbee of Rolla, plan to be part of a 10-person crew on a voyageur wooden boat that has a goal of finishing the race in 50 hours. The group will eat and take turns sleeping — and row, row, row their boat — stopping only for necessities such as emergency bathroom breaks. She is part of a team named Colter's Run, Team BOR and will be the only woman on the team.
"I do adventure racing but never a race like this before," she said. "I don't know why I'm doing it. I know it will be painful and a struggle."
But fun. At least that's the goal.
It must be at least a little fun – satisfying at the least – because Carol Heddinghaus of Rolla, recently retired from Missouri S&T, has been in several MR340s since the event was first held in 2006, winning it and finishing second on several occasions. She is paired this year with Joan Twillman of St. Charles. Their team name is Big River Paddlers.
Heddinghaus has the second-fastest time ever in the women's tandem, as her and teammate Abigail Tuttle finished in 49 hours, 24 minutes, just seven minutes away from the record, also set in 2010.
There are about as many ways to traverse the Missouri River in the MR340 as there are boats. As they say, different strokes for different folks. Most paddlers are solo in kayaks or canoes, but there are divisions for tandem men and women, boats with three or four competitors and a dragon boat division, Vikings-style, for 10 or more paddlers.
Some entrants are in it to win it, but most just want to finish and enjoy the challenge, and to say they rode the Missouri River for 340 miles in 88 hours or less. I supposed they all have goals and reasons, and Jess Baldwin is no exception.
"My first goal is to finish, yes, but I want to beat 75 hours," she said. "I think it would be a good accomplishment. A few years ago, I was overweight, had surgery, and now kayaking is a way to keep the weight off. I grew up canoeing, but this is going to be a lot different than anything I have done before."
Jess and the rest of the locals will have support crews that literally follow them down the river – by land, of course – to ferry supplies of food and water and anything else you might need while doing such a thing as racing down a river in extreme heat, dodging towboats pushing barges, fishermen in speedy boats, wing dikes, buoys, bridge pilings and mosquitoes. And in Jess' case, all the while sitting in a 15-foot kayak for 20 or so hours a day, with a three- or four-hour catnap on the riverbank. A strong flashlight or spotlight and a life jacket are required gear. So is a cell phone with extra batteries and an extra paddle.
"I have had a few people recommend (modifying) a bean-bag chair to fit just right on my seat," she said. "I know it's going to get pretty uncomfortable. . . From what I read, it's going to take about 300,000 strokes-plus to make the 340 miles."
About a third of the entrants in the MR340 don't finish the race, which is all about endurance. For some, it's also serious business.
There are nine checkpoints along the route where paddlers are required to sign in and sign out, according to MR340 organizers. Cutoff times will be associated with these checkpoints based on the 88-hour pace. Failure to make checkpoint deadlines is grounds for disqualification.
There are no dams, locks or portages on that stretch of the Missouri. The MR340 course is all on Class I water, with a current of two to three miles per hour. Serious paddlers finish the race in less than half the 88 hours allowed. The fastest solo finish for a man was Ryan Slebos time of 36:43 in 2015. Robyn Benincasa is the fastest woman with a time of 43:06 in 2010. Obviously, the tandem division makes it in a little less time.
Anyway, between 7 a.m. and 8 a.m. Tuesday, July 24, over 500 paddlers in hundreds of boats will churn the water at Kaw's Point in Kansas City, the start of the MR340. What a wonderful sight that must be for those taking on the challenge, but not nearly as wonderful as the sight of the finish line after sitting on your tired buttocks in the Missouri River for most of 88 hours with a sunburn, rubbery arms and as much sleep deprivation as a body can take.
Follow the racers July 24-27 by their entry number at raceowl.com. Heddinghaus is No. 3907, Crews and Frisbee 1809 and Baldwin 1202.