Members of the Your Community Cares Rural Health Coalition and guests held a ribbon cutting Sept. 8 in Salem for the new mobile health clinic being deployed by Your Community Health Center.
Your Community Health Center's new mobile clinic is capable of bringing behavioral, dental and medical services to rural settings. The vehicle is equipped with two exam rooms, a lab area, telemedicine technology and a restroom. Its deployment comes as a conclusion of a one-year planning grant in 2018 and was funded through a grant awarded to the Your Community Cares Rural Health Coalition last year.
Attending the Salem event were state representative-elect Ron Copeland and Salem city officials, as well as county and Salem Area Chamber of Commerce members.
Sen. Roy Blunt and Gov. Mike Parson met with members of the Your Community Cares Rural Health Coalition Sept. 3 in Rolla. Blunt and Parson toured the vehicle with local healthcare leaders and cited it as an example of how innovation and a preventative approach can help better address issues of substance misuse and mental health in rural Missouri.
"Any prevention that you can step in and do is good forever," Parson said. "It is a cost saver, if you want to talk about the financial side of it, but truly you're providing services to someone before they get to such a shape that it becomes very costly and dangerous for those people. The more I am in that position, the more I believe in every type of prevention. Maybe this costs something upfront, but what's the end result? It saves. I guarantee it will save us money in the long run."
Blunt agreed that investing in enhanced preventative measures, and delivering those services through direct-to-patient technology like mobile clinics and telemedicine, can save money while also saving lives.
"Our state has done the best job of keeping the overall healthcare matrix together, to where you actually have a better evaluation of what happens to other healthcare costs when you treat behavioral health like any other health issue," Blunt said. "Were proving exactly what I thought we would, that those other health care costs go down more than your mental health goes up because people show up for appointments, they take the medicine they're supposed to, they eat better, sleep better and feel better about themselves. Missouri has really been one of the tremendous leaders in showing that doing the right thing is not only the right thing to do, but also probably financially the smart thing to do in terms of your overall healthcare dollars."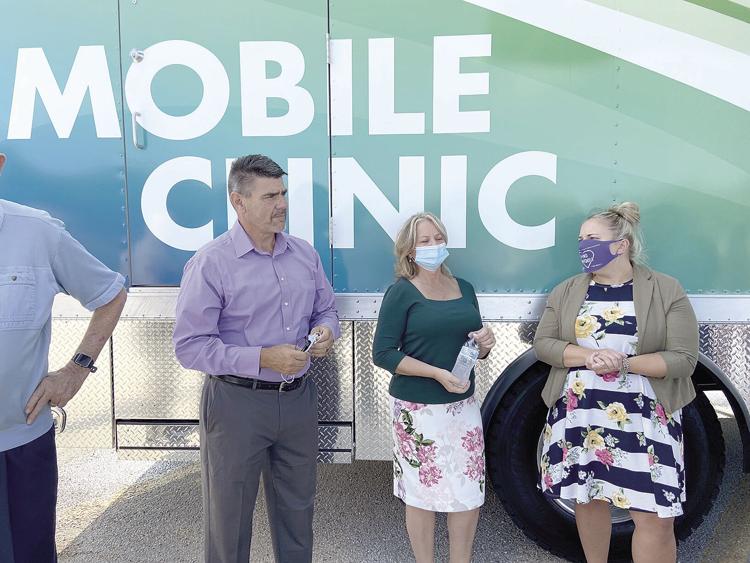 Blunt added adapting to the COVID-19 pandemic at a policy level is also helping make a difference.
"I think the biggest change, and how this unit will be able to work in the future, is the Medicare reimbursement for telemedicine," Blunt said. "That revenue stream would not have been there six months ago when we were talking about putting this unit together. It is now apparently there based on the new CMS regulations permanently for most of the services that would happen inside that unit. That's going to make a big difference I think in the financial future of this kind of mobile unit."
Leading the Thursday discussion with Blunt and Parson were Project Director Felisha Richards of Your Community Health Center as well as the organization's CEO Stuart Gibson and Medical Director Dr. Matt Porter.
"It's great to see the support for community health centers and for the stigma around substance misuse disorder to be lifting so it becomes part of your primary care systems and anyone who needs help can come in and get it," Gipson said.
Richards added, "Were excited that they're looking at the payment models and things that can not only help us as a health center but help our patients. At the end of the day, individuals in our rural communities need access to health care, and if we can get payment models to help them, we'll be able to continue great services for them."