Barn owls, the majestic white birds of the night, are receiving support from the World Bird Sanctuary and local volunteers as they begin to be released into Dent County.
"Barn owls are a species of special concern in Missouri," says Jeff Meshach, the Director of the World Bird Sanctuary in St. Louis. "MDC (the Missouri Department of Conservation) says we do not have the numbers we should be seeing, so we are trying to help increase their population in the wild."
The World Bird Sanctuary is nonprofit organization whose primary mission is to preserve the earth's biological diversity and to secure the future of threatened bird species in their natural environments. As part of their Return to the Wild program, Dent County has been selected as one of eight sites in Missouri where barn owls raised in captivity will get their first taste of freedom in the Ozark wilderness.
"They're called barn owls because they like to nest in barns and other human-built structures," Meshach says. "Unfortunately, many wooden barns today are falling into such disrepair that not even the barn owls can nest in them. When they are replaced by the farmers we are also increasingly seeing metal barns and structures put up which have no access or places for the birds to nest. This is a major factor for their declining numbers, especially in eastern Missouri."
The first breeding pair of barn owls was released in Dent County Oct. 12 at Freedom Hill, a local horse sanctuary operated by Paula Schenck off Highway 68.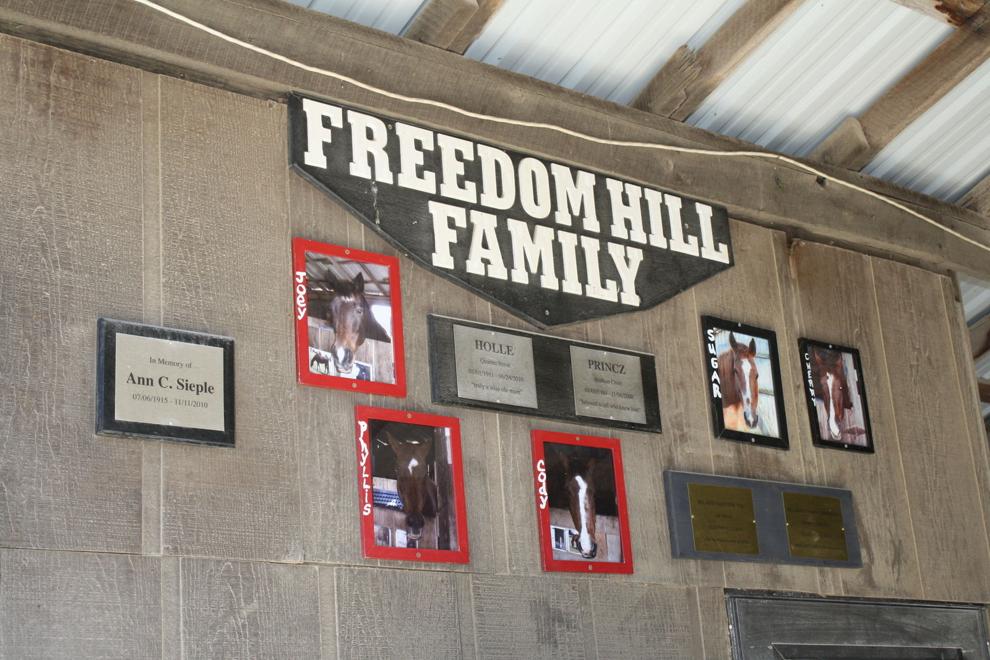 "They are absolutely beautiful birds," Schenck says. "It was such an honor to be able to release them. My hope is that everyone in Dent County will soon start hearing barn owls in the night."
The release point for the birds is a specially built mew in Schenck's horse stable where the birds spend a few days adjusting before being set free. As part of the first release, Schenck took care of the birds for three days, which involved some less than glamorous aspects.
"I did have to hand feed them dead rats," Schenck says. "I also had to fish out the dead rats they didn't eat and then keep them in the freezer."
In spite of the gritty details, Schenck says holding the birds of prey was a truly transcendental experience.
"When Jeff put the female into the mew he said, 'Sweetie this is the last time a human will ever touch you."
The experience also included some thrills.
"While I was holding the male it turned its head 360 degrees just like in the movies, and screeched a horrid sound," Schenck says. "Then Jim said 'Smile' and he took a photograph. I asked him if he knew how to get it to turn its head back around."
Meshach and Schenck are calling on all local bird enthusiasts interested in supporting the barn owls to consider installing a wooden breeding box into their barns, stables or other outdoor agricultural structures to help give them a place to live.
"It is very important they have a nesting place," Meshach says. "The World Bird Sanctuary has breeding boxes available for anyone interested in putting one up. We also have plans online for people to be able to construct their own box if they choose."
Schenck says she also has several breeding boxes at Freedom Hill for locals interested in supporting the barn owls. She can be contacted at paulaschenck@hotmail.com.
"The more boxes we have the better chance the barn owls will have once they are released," Schenck says. "I don't want them to become endangered because of something we as humans are doing or are not doing to help."
Meshach says there are also many benefits for local farmers who provide a place for the barn owls to live.
"Barn owls are one of the best natural mousers on the planet," Meshach says. "One barn owl can consume up to 1,500 mice in one year."
Meshach says this makes barn owls a much more efficient and less costly pest control than house cats. The barn owls will also not scare away or depopulate song birds from the areas in which they live, in the same manner as felines.
"Barn owls have incredible hearing," Meshach says. "They can actually hunt in complete darkness because their face is a disk which is adapted to enhance their ability to hear a mouse at night."
Another important conservation measure Meshach encourages is for people using rat poison to only employ non-secondary poisons for pest control. Most poisons used to kill rats and mice will also kill owls if one happens to eat a poisoned rodent.
The barn owls released Oct. 12 were tagged for identification. If any resident sees or finds a tagged barn owl please contact Schenck.