This marked the 10th year for Rodeo Bible Camp, held June 4-8 at Whispering Winds Bible Camp in Cook Station, approximately 30 miles northeast of Salem. This year's camp hosted a total of 113 campers representing four different states, and instructors from all over the country, coming from ten different states. The camp has grown tremendously since its start in 2009, where it hosted just 23 campers.
RBC is put on by the organization, Trail to the Cross. As described on the group's website, "A combination of a passion for Christ and a love of rodeo led us to develop this local chapter in South Central Missouri. Our goal is to impact lives through the Gospel of Jesus Christ. We strive to accomplish this through our annual Rodeo Bible Camp, trail rides, and other events."
This year's camp had 10 different areas of rodeo instruction for campers to choose from. On Saturday, the final day, campers' families were invited to a time of worship, an awards ceremony, lunch and a rodeo, where campers could showcase newly-honed skills. At the awards ceremony, instructors presented campers with buckles in their respective events.
The following campers were awarded the coveted buckles in their particular events: Bareback Bronc Riding– Wyatt Greenfield; Barrel Racing – Meredith Weller; Bull Riding – Brady McMullin; Chute Dogging – Micah Fletcher; Goat Tying – Kaylee Taylor; Team Roping – Justin Phoenix; Trick Roping – Gage Davis; Ranch Hand – Parker Van Wyk; Breakaway Roping – Karson Fuchs; and Horsemanship – Abigail Thomas.
Walk the Talk buckle winners included Maddison Branstetter and Evan Poindexter, two campers who displayed their faith in action. The Sarah Batstone True Grit award, given in memory of its namesake, a former camper who died in a car crash in 2014, was presented to Vance Sulizar.
"It's always a blessing to see God work in young people's lives," said Wes Clancy, camp director. "I'm grateful to get to serve God in this ministry."
To learn more about Trail to the Cross and Rodeo Bible Camp, visit www.trailtothecross.com or follow them on Facebook.
---
A Camper's Perspective
By Saylor Van Wyk
Hi, my name is Saylor Van Wyk, 11, of Salem, and I was a first-year camper at Rodeo Bible Camp. I brought my 20-year-old quarter-horse gelding, Dallas, to camp. Rodeo Bible Camp is a great place to learn about Jesus while doing activities you love like riding a horse, roping, or riding bulls. It is also a great place to make new friends and spend time with people you know.
This year I was in the horsemanship class. The first day in horsemanship we learned groundwork and flexing our horses on the ground. Then we got to ride our horses in the arena and walk and trot around. We also worked on turning our horses and flexing while we were on them. Next we practiced our pattern for the rodeo, and I got to be in the front of the pattern. On the last days of camp, we went on two trail rides. If you go to Rodeo Bible Camp and you have a horse, I recommend starting out with horsemanship.
I would say my favorite part of Rodeo Bible Camp was the rodeo. At the rodeo, each class gets a turn in the arena to show off what they have learned the past week. The kids' family and friends can come and watch the rodeo at the end of the week to see what the kids have learned.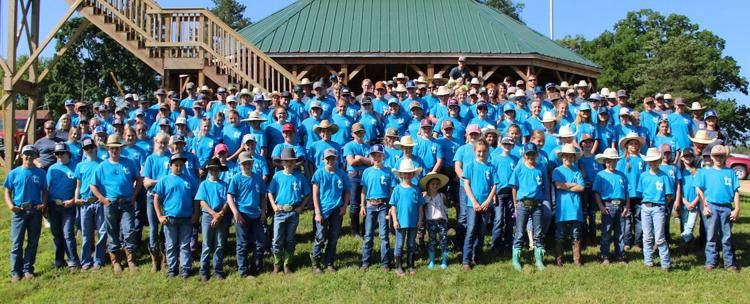 The most important part of Rodeo Bible Camp is learning about the Lord Jesus Christ. We had chapel two times a day and a man named Scott Brown does the music and gives a little message. I think Scott Brown is an amazing man and loves Jesus and rodeo. Also, about 11-12 people got saved this year at camp and a few were baptized. That was awesome to experience.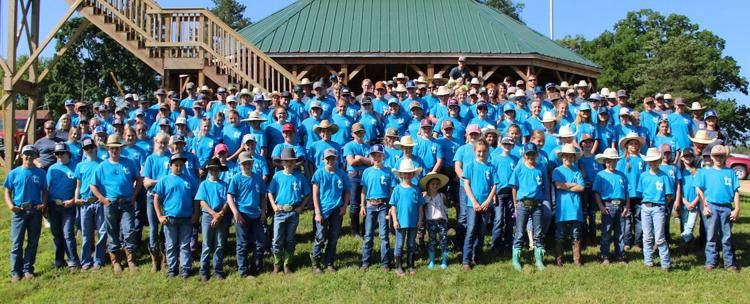 I think that Rodeo Bible Camp was so awesome that I'm going to go back next year. I am thinking about doing the Ranch Hand class, which is what my big brother did this year. I encourage all you rodeo lovers to come to Rodeo Bible Camp next year because I think you will have the time of your life and you won't regret it. I would also like to thank Wes and Esther Clancy and all the staff who helped out for making this experience possible.